According to Bankrate, open floor plans are among the top desired qualities that a home buyer looks for. Whether you're selling your home soon or you simply want to update your existing features to make the space more livable, check out these designer tricks for updating your open space and making it more modern and luxurious.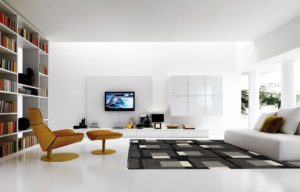 Image Source : Flickr
Designer Tricks for Updating Your Open Space
Install Floor-to-Ceiling Windows
An open floor plan typically involves the kitchen, dining room, and living or family room all being part of one space without wall partitions. One dynamic way to update your open space is to bring fresh, natural lighting into the space. Floor-to-ceiling windows flood your living space with natural light and offer beautiful views to the outdoors. If you have a lovely pool and yard or your home looks out over a charming cityscape, you can make the outdoors part of your décor with large, elegant windows.
When you update the windows, you can also take this time to change up the window treatments. High-end blinds and other window treatments make it easy to shade out the morning or evening sun or let in the starlight to set the right mood. Retractable window treatments also give you the option for privacy if your floor-to-ceiling windows look out over a neighbor's yard.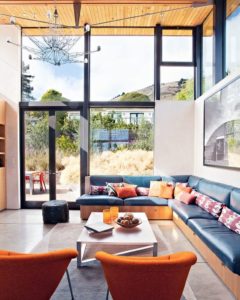 Image Source : Flickr
Float Your Furniture
A common design mistake is to push furniture like sofas and end tables against the wall. Floating the furniture is a much more effective way to use your space. Pull your couches and armchairs a few inches away from the walls so that they are closer together. This trick will make the room look visually larger, and guests who sit on the furniture will feel more intimate while chatting. The best part is that this designer update is virtually free; all you have to do is rearrange the seating until you find something that works for the room's traffic flow. The idea is to "make major changes" without the "major commitment" part.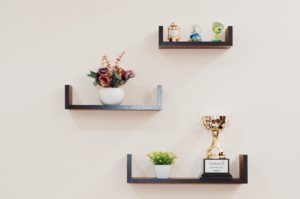 Image Source : Pexels
Add an Electric Fireplace
A high-end fireplace makes a fabulous focal point for a living room. In addition to adding warmth during the colder months, your fireplace is essentially a blank slate for updating the décor. Whether you choose a rustic stone fireplace or an elegant fireplace with a marble mantle, it sets the tone for the entire space. Take advantage of the mantelpiece to display fire artwork such as vases. Alternatively, choose a style of fireplace that is set directly into the wall and frame it with some incredible lighting. By arranging your seating options around this focal point, you create a cozy place to chat all year long.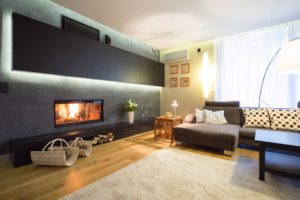 Image Source : Deposit Photos
Update that Cabinet Hardware
Updating your cabinet hardware is one of the best designer tricks to give your kitchen or dining room an instant facelift. Diane Henkler of InMyOwnStyle showed just how effective this update can be as part of a kitchen remodel. Rather than completely replacing outdated kitchen cabinets, she gave her existing cabinets a fresh coat of white paint and then installed modern-looking hardware, mixing in chrome bars and glass knobs. The budget-friendly remodel takes a tired 1980s kitchen into the 21st century with little effort.
You can also use this trick on dining room cabinetry or shelving in the living room. If a display cabinet or your entertainment center has tarnished or outdated hardware, switch the pulls and knobs out for more modern fixtures. This fix seems like a tiny detail, but doing it throughout your open space will instantly add a more contemporary feel.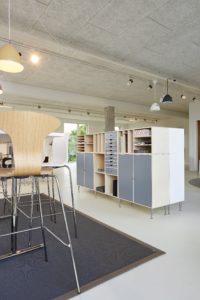 Image Source : Pexels
Use Rugs to Define Space
One potential problem of an open floor plan is how to define each "function" of a space without the traditional barrier of room-defining walls. Designers often solve this problem with the use of area rugs. A rug creates the illusion of separation even if the space is unlimited. If your open space has both living room and dining room furniture, place area rugs under each respective area of furniture to visually separate the spaces. Conversely, if your foyer follows a spacious hallways that leads into the living room, place rugs along the hallway to visually lead the eye from the entrance into your home.
Whether you match multiple rugs in your open space exactly is up to your design preferences. Alternatively, choose rugs in similar hues but with different patterns, or try a combination of patterns and solids to create a complementary and cohesive look in your space. Be sure to use pads underneath your rugs where necessary to protect laminate or wood flooring.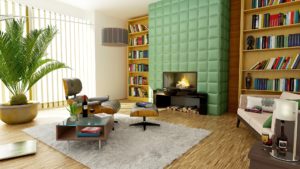 Image Source : Pexels
For Sale or for the Long Haul
Updating your open spaces has both immediate and long-term benefits. If you are preparing your home for sale, your home will be more attractive to buyers with ample natural lighting, modern furnishings and smartly placed seating that makes the space look larger. In the meantime, you can take advantage of these updates and designer tricks for updating your open space to make it more comfortable and pleasing to live in.
Thank you Alex Moore for this wonderful article.