Who doesn't love tunics? They are cute, chic, comfortable and affordable, but the best part is that with a bit of modifications, you can wear tunics in any season and for any occasion. But sooner or later, we all get tired of wearing the same old tunic again and again, don't we? Well, here are some awesome tips to style up the classic plain tunic and give them a whole new look.
Style Up the Classic Plain Tunic
Belt Them Up
Simply adding a stylish belt on your waist can give your tunics a very nice and dressy look. This is also a great style for girls who are heavier waist down as it brings the focus on your waist and makes your hip area appear much slimmer.
Layering Over and Under Your Tunics
Layering works really well with tunics, which is why there's absolutely no need to pack up your favorite Summer tunics once the season's over. Instead, wear them with sweaters, scarves, jackets and every other piece of Fall or Winter wardrobe that you love. Be creative and you'll be able to create some really cool color combinations as well as outfit styles.
When it gets too cold, layering over your tunic is no longer enough. So for the harsh winter days, wear your tunics over a turtleneck for a creative look. A girl who wears an abaya can easily layer her tunics choosing a front open type as it creates a very modest and sophisticated outfit. For the X-factor in this look, wear a headscarf that matches the color of your tunic.
Accessories
Add a personal touch to your tunics by using accessories and showing your style. For example, adding a nice statement necklace will give them a new neckline. Wear it with a matching scarf, jacket or just a nice handbag and you'll have a gorgeous outfit to wear. Tunics are pretty simple to dress up or down, but it's dressing them up which is more fun.
Dress up your tunic with some nice accessories and choose the right shoes, depending on the occasion. For example, for formal and semi-formal events, tunics look great when worn with gladiator heels. But when you're looking for minimalist look, loafers work best.
By choosing the right accessories, you can also give your tunics a boho look. Moreover, if you have some old tunics and you are bold enough to give them a new look, then you should go for up-cycling. Grab a pair of scissors and add fringes at the base of your tunic for the ultimate bohemian vibes. These accessories and steps will definitely style up the classic plain tunic.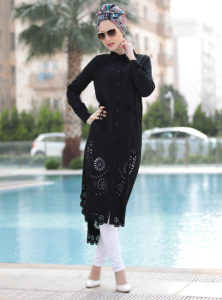 The Classic and Casual Way
Nothing can ever beat the old classic ways. Which is why the simplest combination of jeans and tunics, is the safest way to go. This is especially true for days when you don't feel like dressing up and just want to be comfortable at home or with your best friends, without compromising your style. Pair the outfit with a messy hair bun and you'll have the most functional look possible.
Tunics for Modest Wear
Tunics make the perfect cover ups for your beach swimsuit. Wear any of your over-sized tunics as a cover up, preferably ones that are made of cotton since they dry up quickly and are easy to manage. Another modest combination that's pretty easy to create is to wear tunics and skirts, an ideal combination for spring.
This works especially well if you have a floral tunic and a plain skirt, or vice versa. Almost any type of skirts can be paired with tunics. So if you have a flared skirt, a pencil skirt, a mini skirt or any other kind, do give this look a try and you'll instantly feel absolutely fresh and energetic.
One thing that you learn from all these tips is that tunics are truly versatile and flattering, which is why every girl needs some tunics in her life. We hope that you can now wear them to their full potential and rock them in every possible style. So grab yourselves a pretty tunic and use these methods to style up the classic plain tunic in your own way.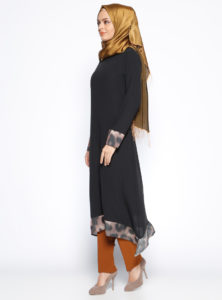 Thank you again Sarah Ghanem for this beautiful article 🙂