Beautiful wedding invitations are a must and high quality invites are the best way to obtain that. But when you're on a budget, it can be hard to find both. On one hand, you don't want to compromise the quality or looks, but on the other your wedding dress or flowers might be more important to you. So, you sacrifice truly beautiful invitations in order to spend your money elsewhere. Basic Invite is doing an awesome job of providing budget wedding invitations for very reasonable rates. Continue reading for further details.
Budget Wedding Invitations
But what if you didn't need to make a choice? What if you had access to high-quality, beautiful, and affordable invitations? Well, it's your lucky day because Basic Invite has them. They've got gorgeous budget wedding invitations and cheap bridal shower invitations that are to die for!
Basic Invite Wedding Invitations
Who is Basic Invite? Basic Invite is an innovative stationery design company that has been creating online custom stationery since 2006. They've got over 200 wedding invitation designs as well save the dates cheap, day of stationery, and tons of products for all of those other major life moments.
Their wedding invitations are as low as $0.99 an invite and each invite is part of a set. This means you can order an entire matching wedding suite with enclosure cards and a pocket invite for a clean and classy look. Plus, your wedding invitations come standard with complimentary white envelope and free address printing. All you have to do is share a link on Facebook, collect your addresses, and they will have your peel and seal envelopes ready to go!
Current Offers
Not to mention Basic Invite is currently offering 15% off everything so don't forget to grab yourself an elegant wedding guest book  which can also be customized. Upload a favorite photo onto the cover or match the design to your wedding stationery.
This is a special time and you deserve the best of the best! Head over to Basic Invite and customize yours today!
Wedding Invitations Samples by Basic Invite
Watercolor Wreath Wedding Invitations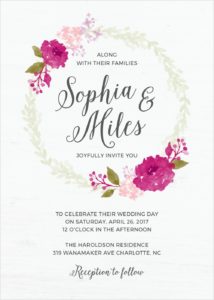 Delicate Laurel Foil Wedding Invitations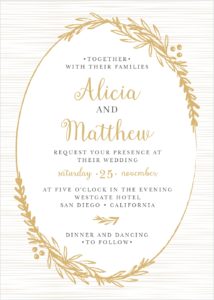 Vintage Botanical Traditional Wedding Invitations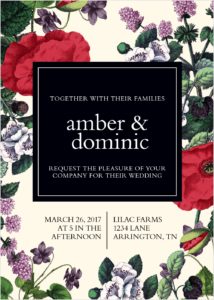 Watercolor Bouquet Wedding Invitations