It is THAT time of year when you can probably cook an egg sunny-side up on the pavement of your driveway. You will also most definitely arrive to work meetings and girly brunches with half-melted makeup and sweat-drenched clothes. Exposing some skin may help you cool down, but as a modest girl, you are not about to do that. So, how do you cope? Well, we have some modest fashion must-haves that will keep you chic without showing too much skin or layering too many items and silently suffer through the summer heat.
Chic Summer: Modest Fashion Must-Haves
Summer is Maxi
Every modest fashionista probably owns at least one maxi piece and summer is the best season to bring it out to play. For many women, flowy maxi skirts are their summer staples and for good reasons too: they keep you cool, they can be worn by everyone and they are light. They are also very versatile to style — you can style the same maxi to an important work meeting, a fun day at the beach or a romantic date.
The same goes for maxi dresses. Although the ones made from cotton or linen are the most logical choice for summer (they are cooling and able to absorb sweat), do not discount a light maxi dress made from silk. While they are not the most breathable fabric, it is able to adjust to your body temperature which means it will still keep you cool in the summer and warm in the winter. Plus, they make dressing up much easier.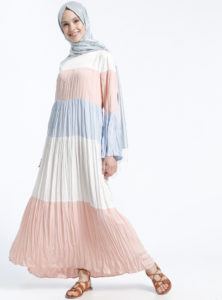 Statement Earrings
Summer is a great season to make bold statements with your style. Other than being loud with colours and patterns, you can also add in some statement earrings to your fashion repertoire. There are plenty to choose from this summer but go with dramatic drop styles that add movement to your whole look. A pair of statement earrings that grazes your collarbones will instantly dress up a casual top; you can also twin it with a turban to add more edge to your hijab outfits.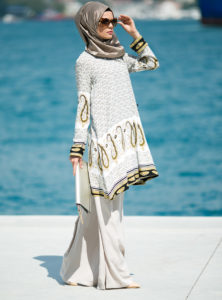 Shoe Game
"Shoes make an outfit whole" was what my mother always says when I made bad footwear decisions. This summer, you have a variety of options to choose from so there will surely be something that will fit your style. A general tip: choose a pair with a vibrant hue to reflect the summery vibe of the season to complement your outfit.
Headscarves for Summer
Not every head was made to wear a hat — this was why man invented scarves for the unfortunate lot. A great summer scarf does more than protecting your head and face from the sun; it adds interest and drama to your outfit as well as an individual flair to your style. They are an affordable way to spruce your wardrobe and they have the superpowers to combat any bad hair days.
There are countless ways you can wear a scarf – just ask any hijabi. A hijab can we wrapped into a variety of imaginative knots, turns and folds; these days, we are not short of hijab fashion from around the world. This cute and fun accessory can also be used on any part of your body (head, hair, wrists and waist to name a few).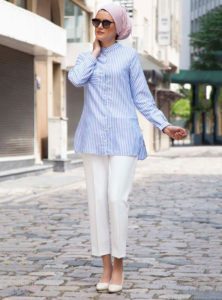 Go big or go Home
'Exaggeration' is the word to remember this summer as pointed out by the four fashion must-haves above. Think bold colors, shapes and silhouettes when you are out shopping this summer. Just remember to anchor these fun, modest fashion must-haves with your basic wardrobe to avoid looking super crazy under the sweltering sun. Happy wearing! 🙂
Thank you again Sarah Ghanem for this beautiful article 🙂