Friends TV show remains one of the most widely watched and renowned sitcom of all time. People still love to watch this season to take their minds off of their hectic lives. I never get tired of watching this series and even after watching it whole once, I want to watch again. The characters are really funny and the dialogues of this series are remarkable. You can never control the laughter while watching this show. The popularity of this show can be judged by the fact that even after more than 20 years have been passed since its airing, people still love to watch this season. The show focuses on the lives of three young men and women namely Ross, Chandler, Joey, Monica, Rachael and Phoebe. All of them go through many phases of life and learn how to cope with it. We see love, hate, jealousy, fun, creativity and of course  charm of these characters. Some of the Friends TV show quotes have become so popular that we notice them being used in daily lives of people.
The cast of Friends TV show is awesome. The dialogue delivery is perfect. I specially love the character of Joey. He is so innocent that sometimes I used to feel bad for him. Chandler is also cool and obviously very funny. Phoebe gives a vibe of weirdness yet she seems so cool sometimes. Ross is the typical nerdy guy who knows everything in every situation, still he goes through failures in each of his relationship. Monica is Ross's sister. Her obsession with cleanliness drives us crazy sometimes but still she has a chic personality. I love how the characters make us laugh even in most serious of their moments. What I love most about the show is that it is funny yet delivers the true nature of life very beautifully.
Because of the popularity of this show, I have decided to include the best friends TV show quotes in my post. These Friends TV show quotes are funny and amusing. Those who have not watched Friends season should definitely give it a try. Please let me know if you people liked my post and share 🙂
Friends TV Show Quotes
Chandler: I'm not great at advice. Can I interest you in a sarcastic comment?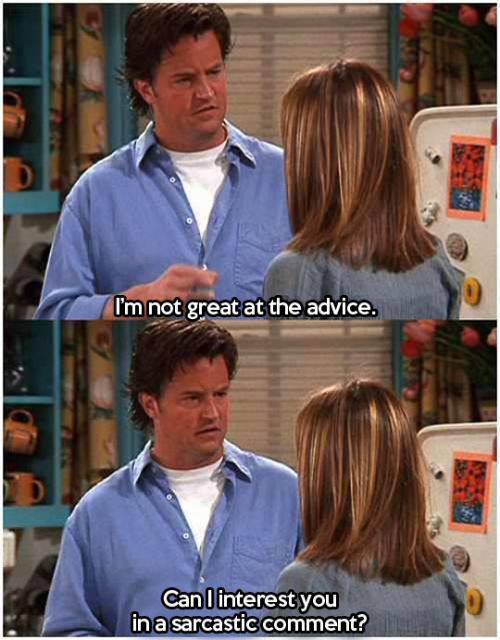 Joey: You can't just give up! Is that what a dinosaur would do?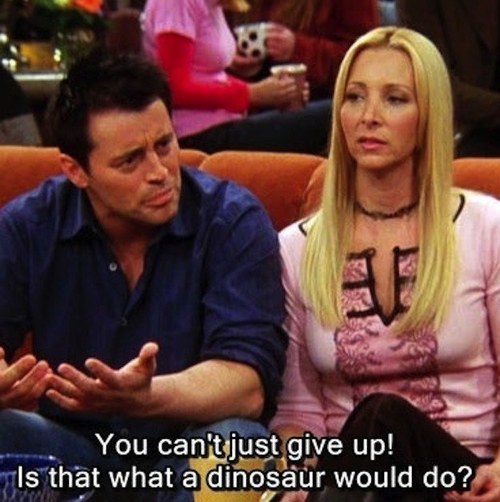 Joey drilling just beside Chandler's head.
Joey: Oh, sorry. Did I get ya?
Chandler: No you didn't get me! It's an electric drill, you get me, you kill me!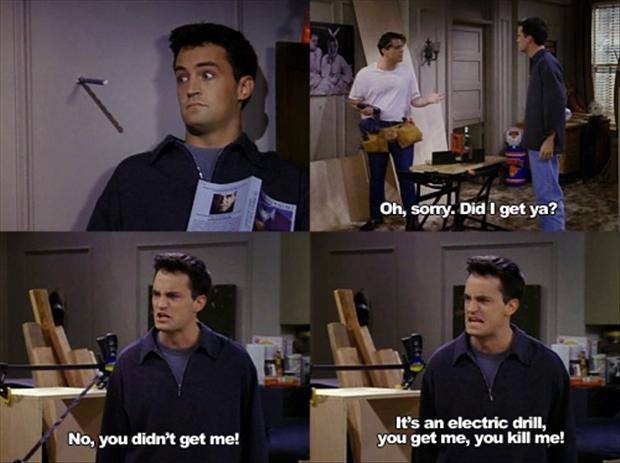 Chandler to himself: Funniest guy she's ever met! (To door): I'm funny, right? (Laughing)What do you know, you are a door. You just like knock-knock jokes.(Serious face)Save it for inside.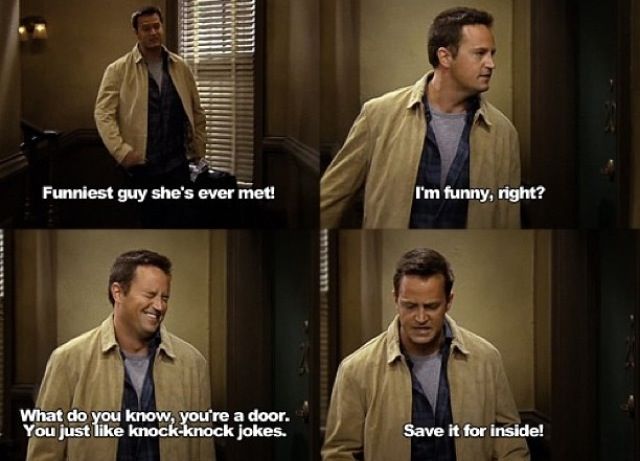 Joey: Rach, the big question is, does he like you? 'Cause if he doesn't like you this is all a moo point.
Rachel: A moo point?
Joey: You know, like a cow's opinion, it doesn't matter. It's moo.
Rachel: Have I been living with him too long, or did all that make sense?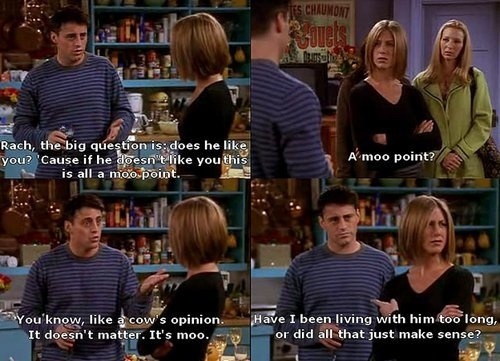 Chandler: I'm full, and yet I know if I stop eating this, I'll regret it.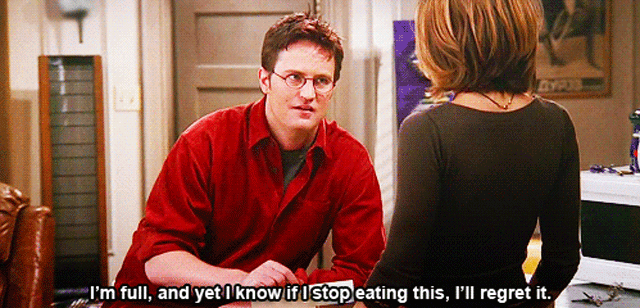 Jill(Rachel's sister): Oh my God, introduce us.
Rachel: This is Chandler. And you know Monica and Ross. And that's Phoebe and that's Joey.
Joey(In his usual flirting tone): Hey, how you doing'?
Joey: I don't like it when people take food off of my plate, okay?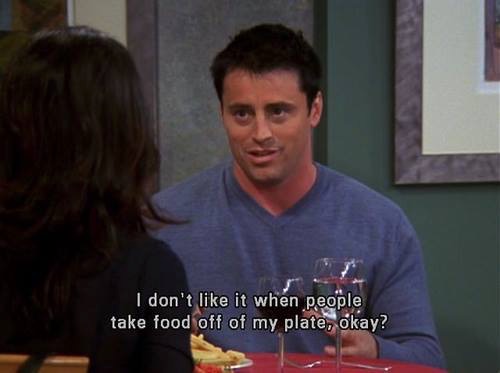 Chandler: I feel like I'm a girl version of Chandler Bing. It makes me feel a bit better about myself sometimes.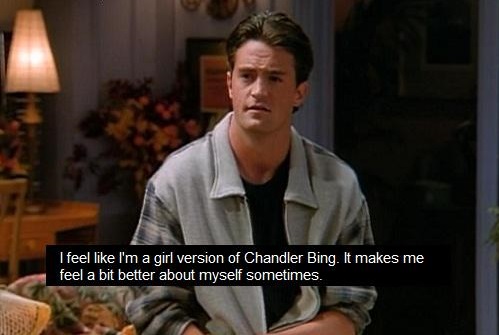 (Everyone watching old movie of Monica when she was fatty :P)
Joey: Some girl ate Monica!
Monica: Shut up! The camera adds ten pounds.
Chandler: So how many cameras are actually on you?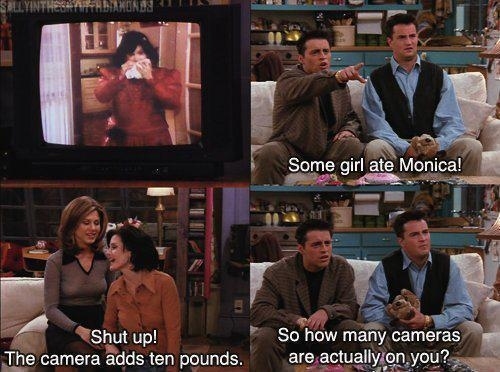 Phoebe(To Monica and Rachel): If I were in prison, you guys would be, like, my bitches.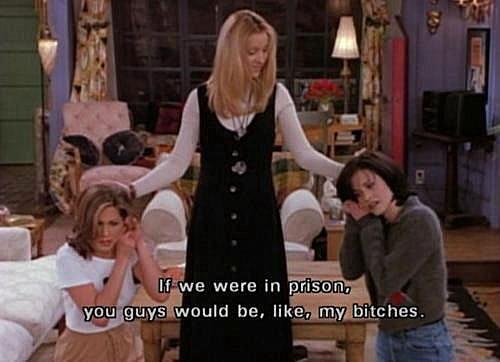 Joey: What I do is, I look a woman up and down and I say (flirting expression) "Hey, How you doing".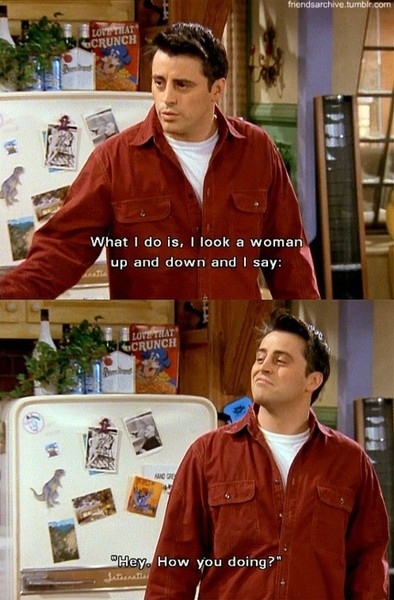 Phoebe: Why do you want to kill yourself?
Earl: It's just that I have been working for 10 years now at this meaningless, dead end job and nobody even knows that I exist.
Phoebe(With uncertain but convinced expression): Chandler?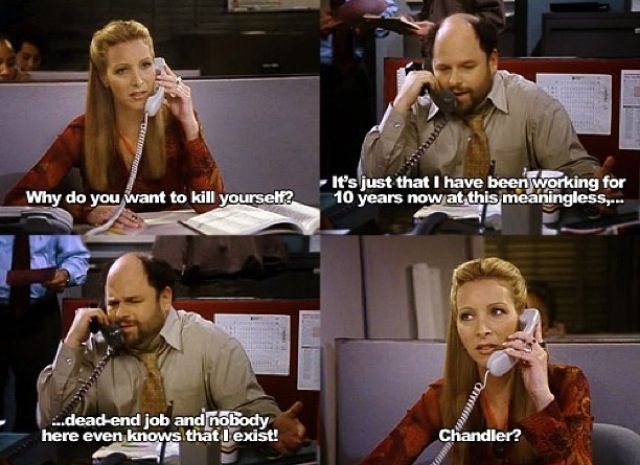 Joey: Oh, do you have a bobby pin?
Chandler: Yeah(Trying to look for bobby pin on his hair), Oh no wait(in sarcastic tone). I'm NOT a nine year old girl.
Joey: Then why do you throw like one?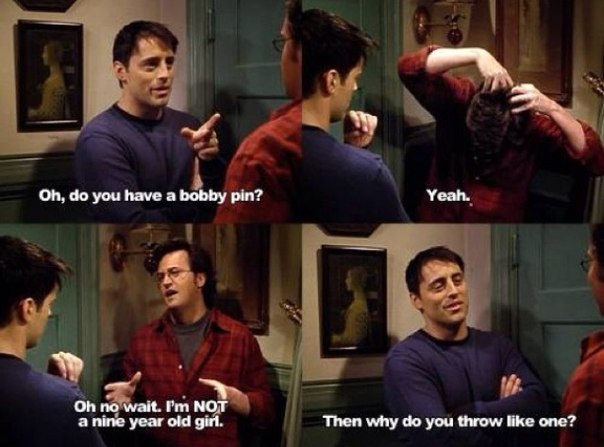 Ross: Emma left her stuffed T-Rex at my house. You know she can't sleep without it.
Rachel: Oh well, she is asleep now. Stop forcing that thing on her.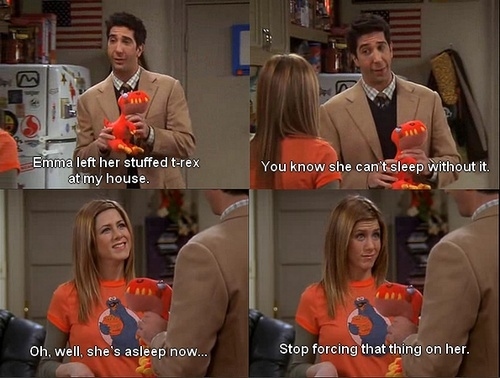 Paul: Hey Chandler? Would you…….Would you hug me?
Chandler: I'm a little busy here Paul.
Paul: That's exactly what my dad used to say! (Starts to breakdown)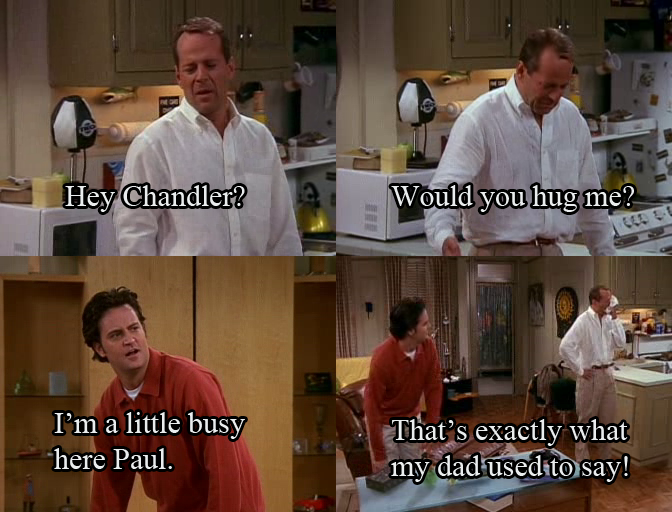 Ross: (Just found out that Joey and Rachel are together and is now drunk) Aaah, love. L-O-V-E love. 'L' is for life. I mean what is life without love?
Rachel: [to Joey] Oh my god, are we supposed to answer?
Ross: 'O' is for OH WOW! 'V' is for this very surprising turn of events which i am *still* fine with by the way. 'EEE' (squeals) is for how extreeemeely normal I find it that you two are together.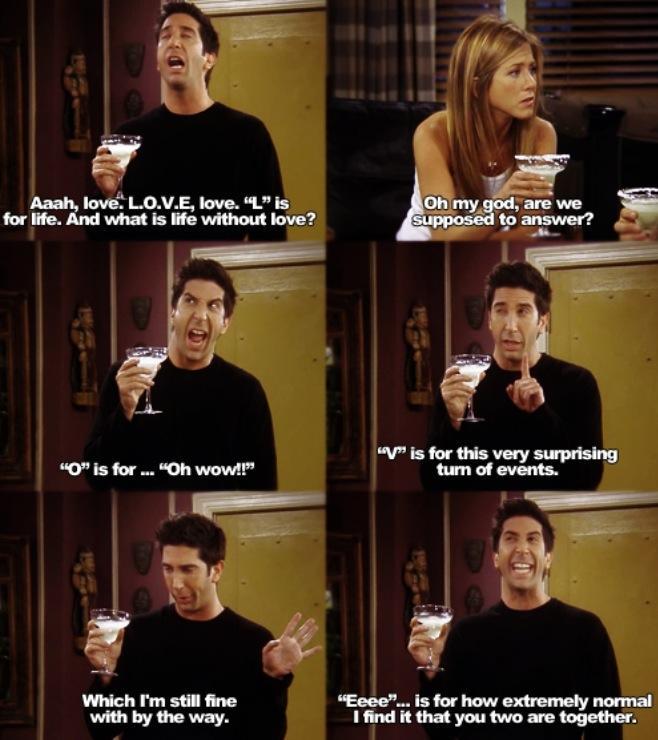 Monica: Oh dear God.
Chandler: Hold on, there's something different.
Ross: I went to the tanning place your wife suggested.
Chandler: Was that place the sun?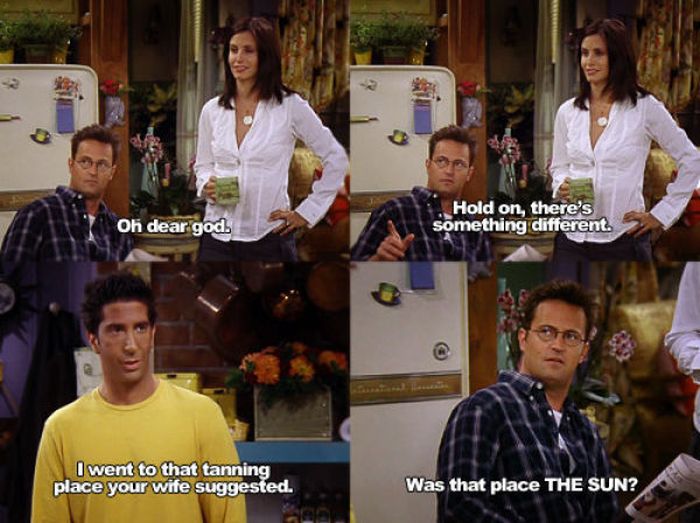 Phoebe: They don't know that we know they know that we know.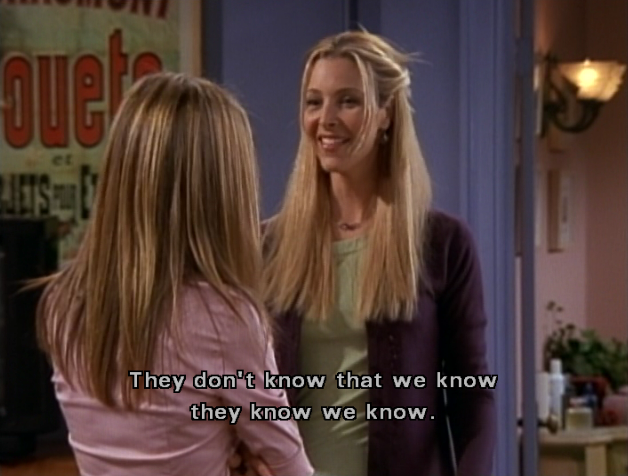 Joey: You don't own a TV? What's all your furniture pointed at?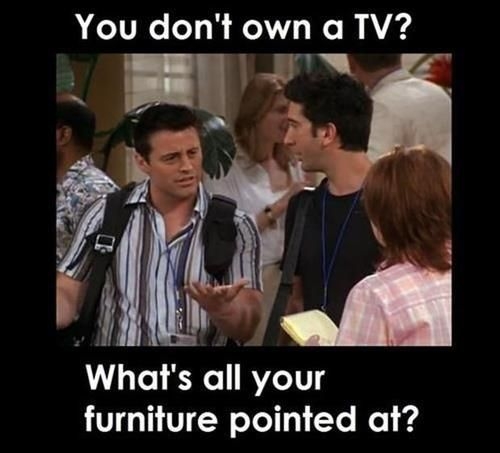 Joey: But it hurts my Joey's apple.
Chandler: For the last time, it's not named after each individual man.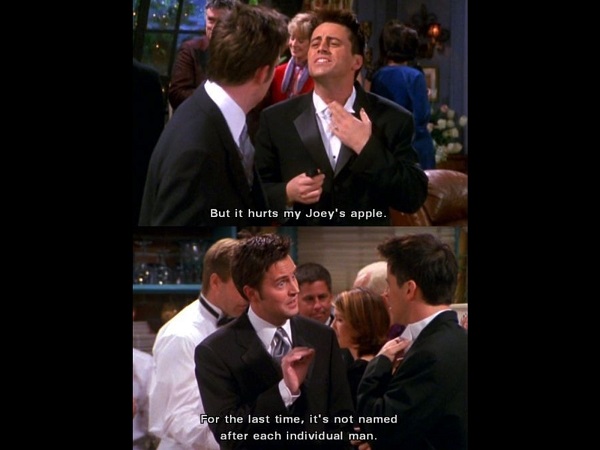 Rachel: Ross, I am a human doodle.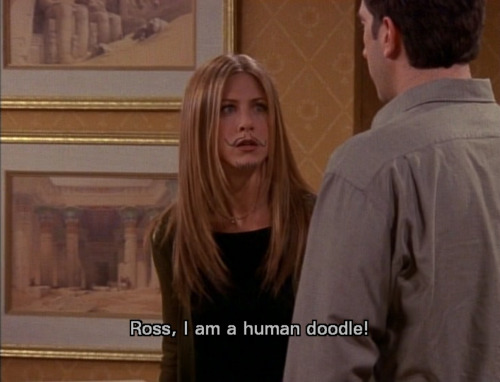 Monica(to Joey): How can you not care?
Joey(Doing don't care gesture): Like this.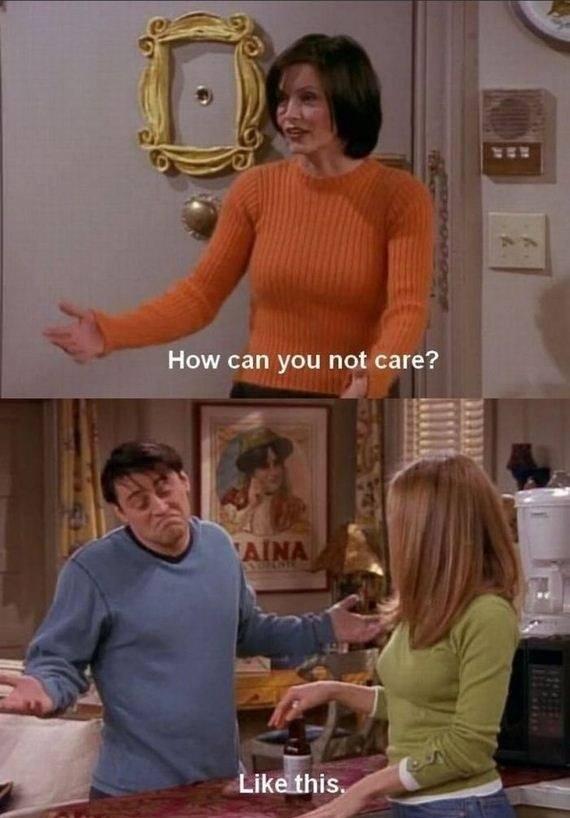 Joey: Well, the fridge broke, so I had to eat everything.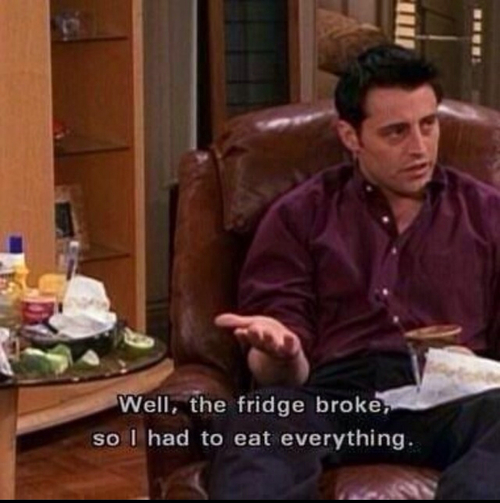 Chandler: You're turning into a woman.
Joey: No I am not. Why would you say that? That's just mean.
Chandler: Now I have upset you. What did I say?
Joey: It's not what you said, it's the way you said it. (Realizes suddenly) Oh my GOD, I am a woman :p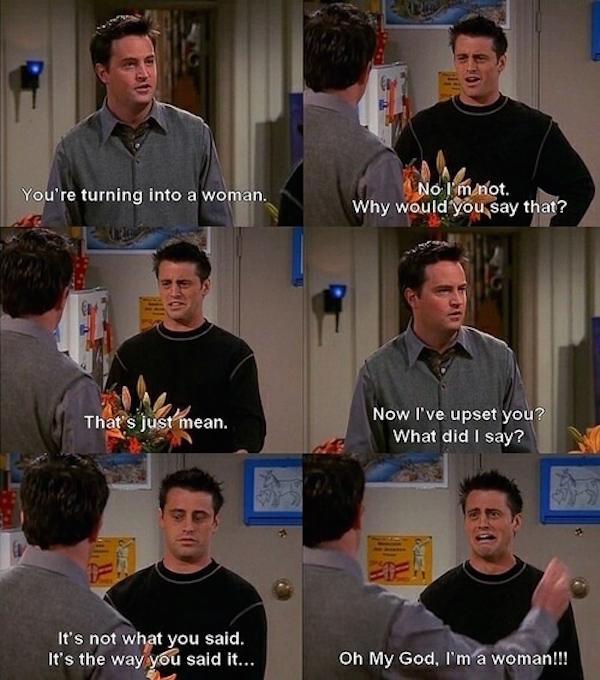 Joey Doesn't share food 😀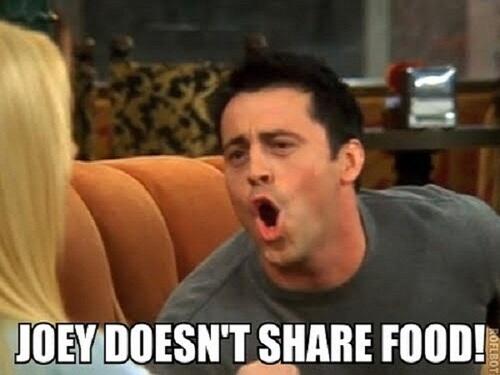 Man on Radio: We will now count from one to five: un, deux, trois, quatre, cinq.
JOEY: Hun, un, blu, bla, flu, flenk!
Man on Radio: Good Job.
Joey: Thank you.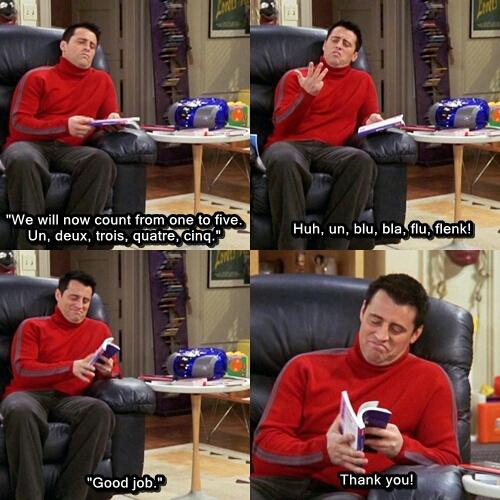 Joey(Impatiently): That's a great story. (Referring to food) Can I eat it?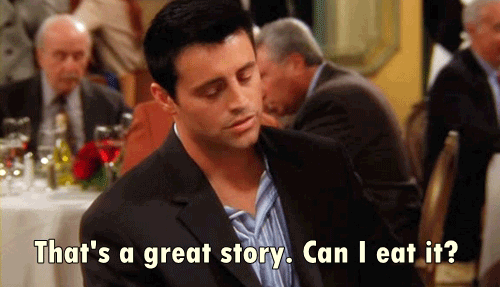 Ross: Guess what happened at work today.
Chandler: A dinosaur died a million years ago?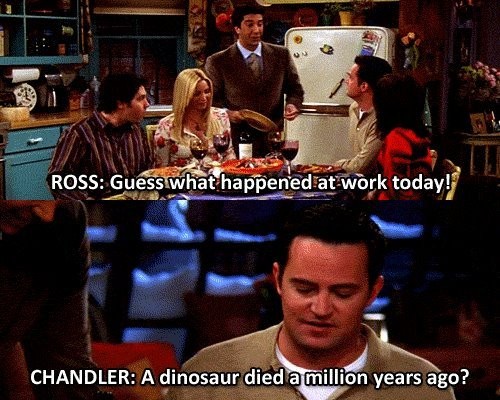 Rachel: I think I'm gonna pick Ross.
Chandler: Yeah, I figured you might, cause of the history and you used to love him. And you guys have a baby. (Mimicking babysitting sarcastically)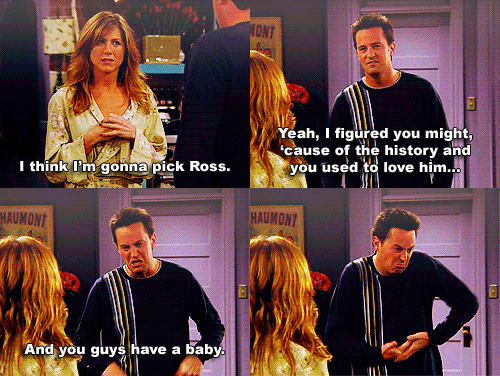 Janice: OH-MY-GOD!
Monica: Sure.
Janice: What a small world.
Chandler: ..And yet I never run into Bey once.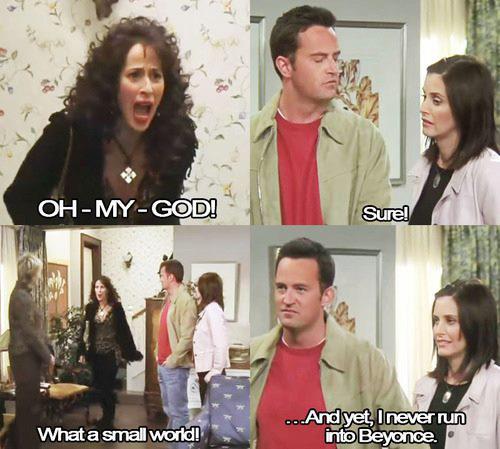 Chandler(sarcastically): Cheese. It's milk that you chew. Crackers. Because your cheese needs a buddy. A grape because who can get a watermelon in your mouth. The phone. Bringing you close to people… who have phones.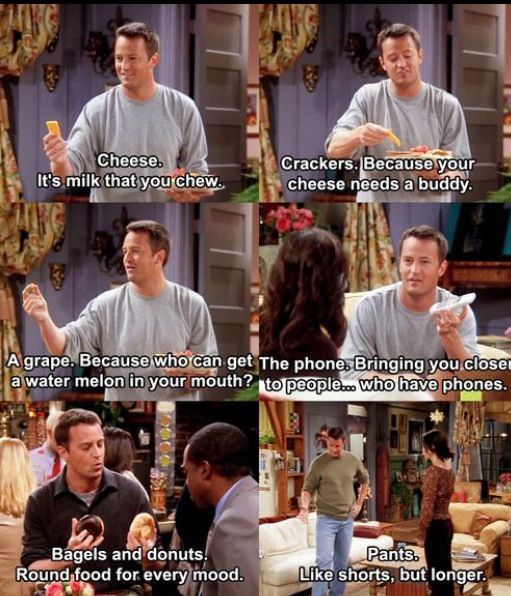 Chandler: Let me think. Let me think. Oh, I don't care.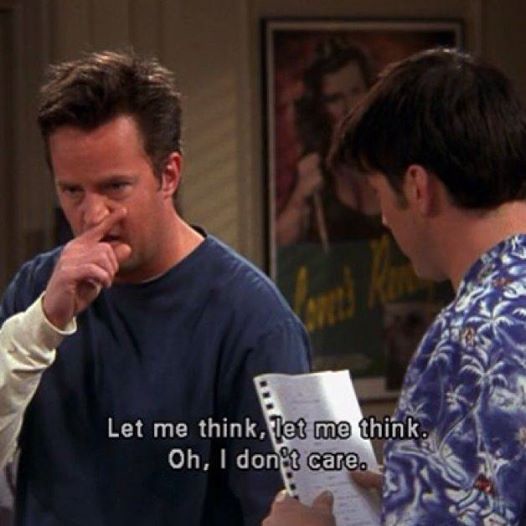 Chandler: When I dance, I look like this.(Does weird moves)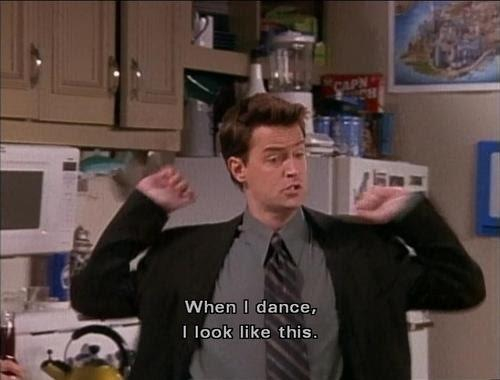 Joey: You didn't cry when Bambi's mother died?
Chandler: Yes it was very sad when the guy stopped drawing the deer.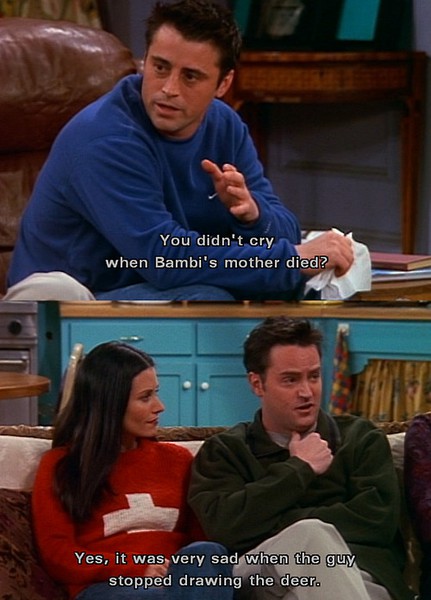 Monica: Welcome to the real world. It sucks. You're gonna love it!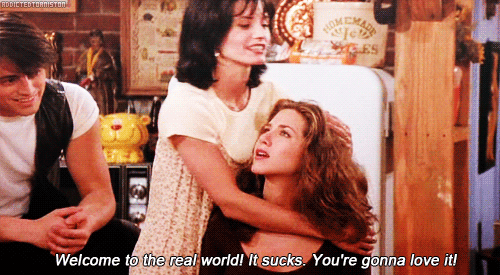 Monica(sarcastically): You messed it up. You are stupid.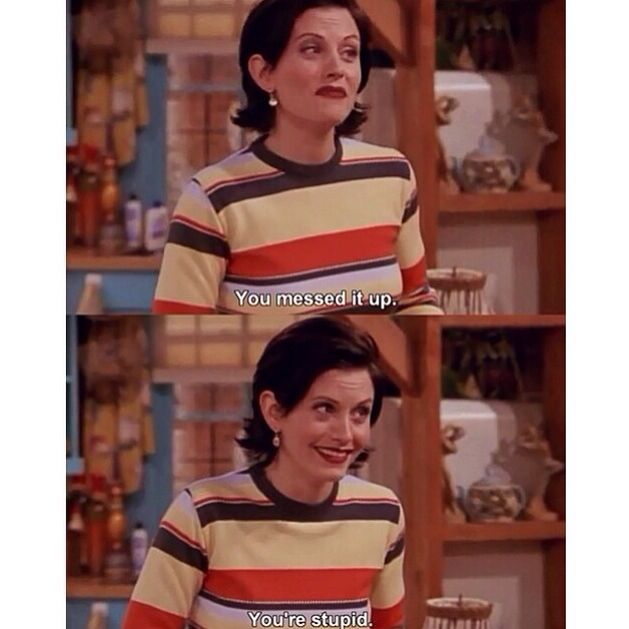 Joey: Don't you put words in people's mouths. You put Turkey in people's mouths.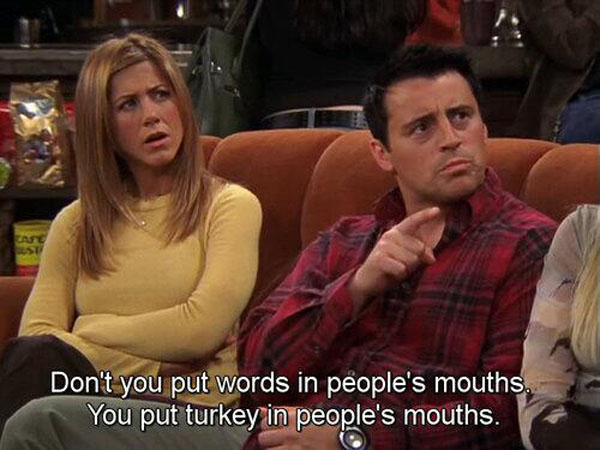 Ross: I am dead?
Chandler: .. and so young.
Ross: posting that I died is not funny.
Chandler: Well how you died is.
Ross: Oh please, hit by a blimp?
Chandler: It kills over one Americans every year.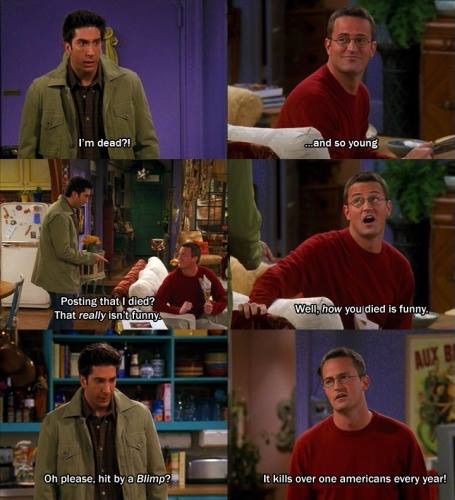 Gene (the word is "cream"): You put this in your coffee.
Joey: A spoon! Your hands! Your face!
Gene: It's white.
Joey: Paper! Snow! A ghost!
Gene: It's heavier than milk.
Joey: A rock! A dog! The earth!
Gene: Pass!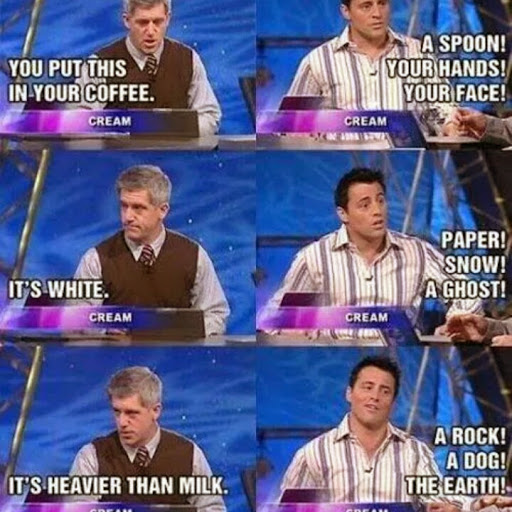 Chandler: You are not allowed to laugh at my joke.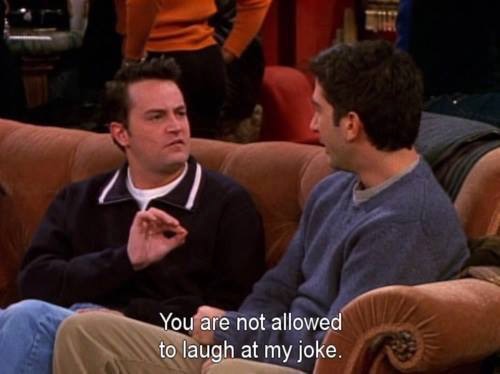 Chandler: I'm glad we're having a rehearsal dinner. I rarely practice my meals before I eat.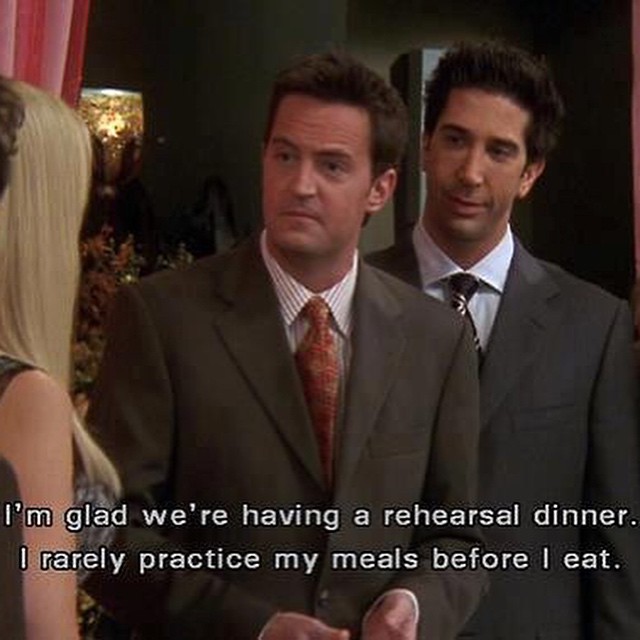 Ross: Pivot! Pivot! Pivot!
Chandler: Shut up! Shut up! Shut up!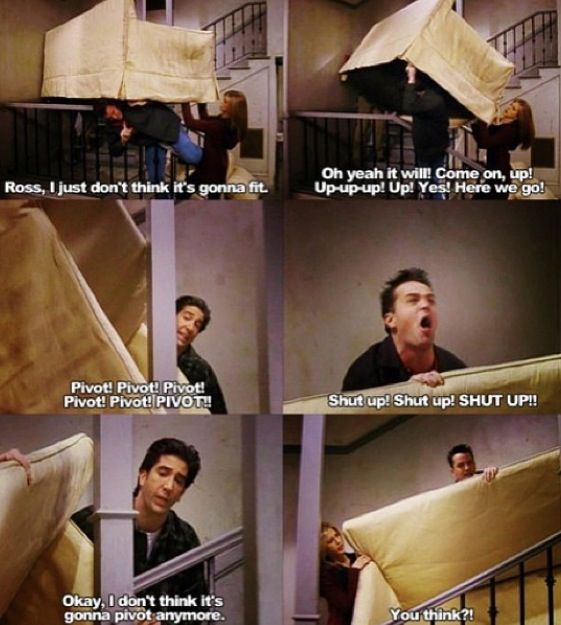 Rachel: Go tell him he's cute.What's the worst that could happen?
Monica: He could hear me!"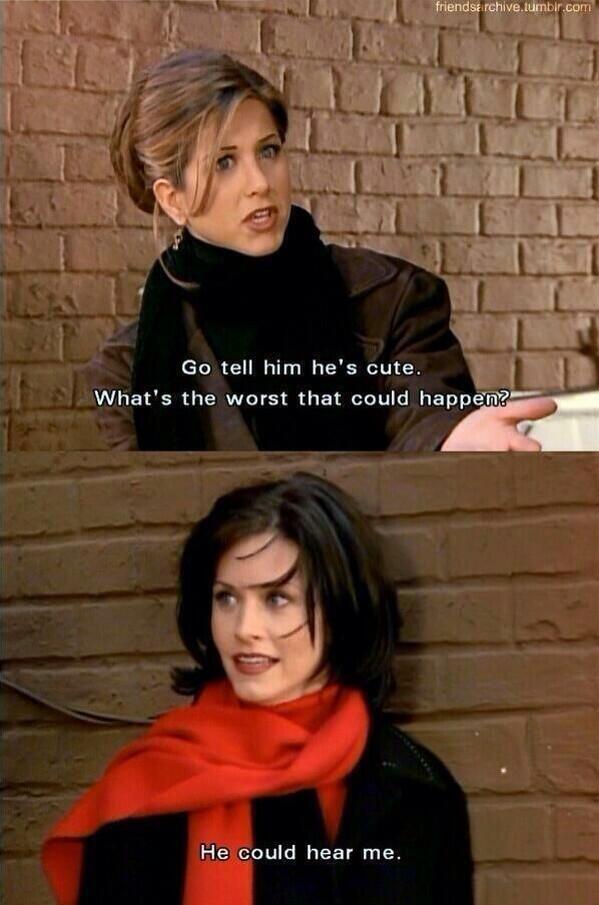 I hope you all enjoyed the funny Friends TV show quotes. Those who have not watched this season are hereby advised to watch it as soon as possible and share the funny moments and friends TV show quotes with your friends and family. ^_^
Sources: goodmorningquote.com, thoughtcatalog.com