A messy bun is the best way to look elegant as well as classy along with comfort. Specially in summers, girls like to make the hairstyles which prevent heat from destroying their day. Although messy bun looks somewhat untidy, the effect it leaves is a miracle. Although it seems like an easy task to create an untidy yet beautiful look of the hair, it takes the most effort. That is why I have decided to write a perfect tutorial on how to do a messy bun.
If you have tried making a messy bun at home, you already know the vast mess it creates. Something is always wrong with the bun. Sometimes its too flat and sometimes too messy. Making a messy bun requires a bit of practice but after trying it for sometimes, everyone can become perfect. If you haven't tried this bun before, or you want a easy tutorial of making it, you are at the right place. This step by step tutorial on how to do a messy bun is very easy to follow. The steps are easy and can be mastered after a few tries. Feel free to ask me if something confuses you.
How To Do A Messy Bun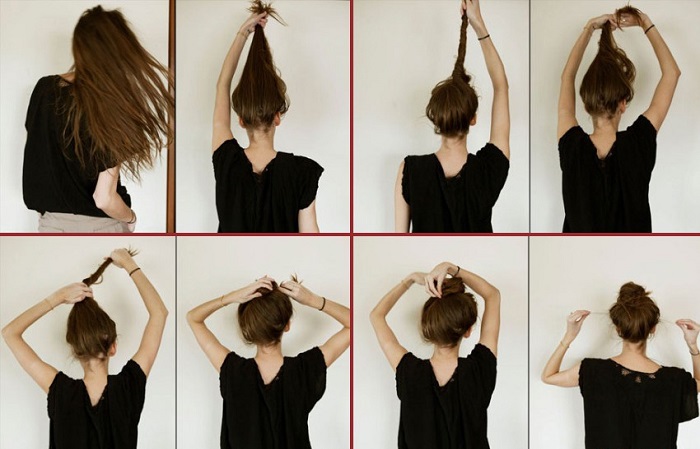 For a more untidy look, leave your hair unbrushed.
Pull all of your hair upwards and hold them straight.
Twist the hair and wrap around itself until a bun is formed on the top of your head.
Secure the loose bun with the help of bobby pins so that it doesn't fall off your head. Make sure that the messy look is not ruined by these pins.
Now pull strands of hair from the bun without deforming it so that the messy look is perfectly created.
The perfect messy bun is finally here. Tada!
See? The steps are so easy. But you won't master them at once but will do eventually if you keep practicing. I hope this tutorial will help you in creating your dreamy messy bun. If you have any queries, feel free to contact me and follow for some more enchanting tutorials. 🙂 Following are some more easy pictorial tutorials on how to do a messy bun. Don't forget to bookmark this page ^_^