Anchorage, Alaska sits on the Cook Inlet and serves as a stunning gateway to the abundant wildlife and natural wonders that the state is known for. Visiting is possible throughout the year. Tourists will be able to experience the beauty of Alaska no matter which season they travel. A day spent exploring Anchorage will leave you breathless. There is so much to see that you might even need to stay out late!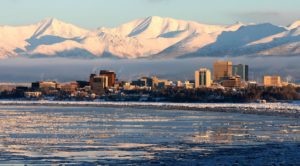 Image Source: Wikipedia
One Day Trip To Anchorage
Where to Go
Begin your day of adventure in Anchorage by visiting the Alaska Native Heritage Center. This amazing museum highlights and educates visitors on the many Indigenous Peoples who call Alaska home.. It provides guests with the opportunity to learn more about the cultures, languages, and customs of Alaska's original inhabitants. Special exhibits rotate throughout the year, often displaying Native Art, crafts, or dances.
Polar bears are synonymous with Alaska, so visiting the Alaska Zoo in the afternoon is a fabulous way to get up close and personal with these majestic creatures. The Alaska Zoo is home to a variety of orphaned, injured, and captive-born animals. All of these are rehabilitated and cared for throughout their lives. In addition to polar bears, other native Alaskan animals on display include the Arctic fox, Sitka black-tailed deer, and caribou. Non-native animals, such as the Tibetan yak, also live at the Alaska Zoo.
If visiting the Zoo has left you with an urge to be outside and explore, then head over to the Tony Knowles Coastal Trail. This is an incredible 11-mile hiking trail that weaves along Anchorage's coast line, while still being in the heart of Anchorage. From the trail, you can watch the ocean tides flow in and out, as well as observing dramatic views of downtown Anchorage, Mt. Denali, and the Chugach Mountains. If you are feeling especially daring, you can rent bikes and ride the entire trail, finishing up your day in Alaska by watching a beautiful sunset outdoors.
Where to Eat
There are a bevy of exciting and delicious restaurants and cafes to entice you during your visit to Anchorage. While you are out experiencing all that this amazing city has to offer, make certain to take time to enjoy the eating establishments. Some of the more popular choices include:
Golden Corral: this perennial family favorite features a buffet-style service that allows everyone to eat exactly what they want, from pizza to chicken wings to salad. The entire family will be able to find something tasty and enjoyable to eat here. Best of all, kids eat for free at Golden Corral!
The Kobuk Coffee Company: if wandering around admiring polar bears and mountain ranges has left you in a slump, head over to the Kobuk Coffee Company for a caffeinated pick-me-up. Known for their creatively-named coffees and teas, this charming café is decorated in a Victorian style that allows customers to relax and refuel. Local artisanal soaps, hand creams, and lotions are available in the attached gift shop.
Glacier Brewhouse: seafood is to Anchorage as coffee is to Portland, and the fare at Glacier Brewhouse does not disappoint. Conveniently located downtown, hungry visitors can choose from a large menu of Alaskan seafood, including halibut, crab, and salmon. There are also menu options for the vegans and vegetarians in your group. And what dinner would be complete without a local beer or ale? There are a variety of beers on tap, from the flagship ambers and India pale ales to the specialty porters and stouts.
These are just a few of the delicious options available in Anchorage. Depending on which part of town you find yourself in during your day-long visit, you will find a variety of options to satiate your hunger: charming cafes, sophisticated restaurants, hole-in-the-wall dive bars. There is an experience waiting for everyone. If you are open to adventure and have a love of seafood, you cannot go wrong in this city!
What to Visit
Alaska is known for its spectacular natural landscapes and abundant wildlife. You can easily access it by a drive from Anchorage where you can explore stunning mountain peaks, glaciers, and fjords. Whether you want to spend the day hiking, fishing, biking, viewing wildlife, or just exploring, the Alaskan wilderness has something exciting waiting for you. From the Chugach National Forest to the Portage Glacier to the Alyeska Resort, the wilds of Alaska are just waiting to be discovered.
The Chugach National Forest boasts numerous opportunities for marine, mammal, and bird watching. Of special interest is the bald eagle population, which is the largest in the United States. It is possible to hike through the forest and then view orcas by the shoreline, all in a single visit. Be certain to pack water and snacks, as doing all of that hiking will surely make you hungry and thirsty.
Located within the Chugach National Forest is Portage Glacier. Once quite large, the Glacier is currently in retreat. You can view it best by taking an hour-long cruise on Portage Lake. It takes visitors right next to the Glacier. The truly intrepid can hike up to the Glacier via trails and take a first-hand look at this wonder of nature. However you choose to view it, visiting the Portage Glacier is a once-in-a-lifetime occasion.
A third fun destination is the Alyeska Resort, which is located within the Chugach Mountain Range. While primarily operating as a ski resort during its winter months, the Alyeska Resort also has an aerial tram! During the seven-minute tram ride, visitors experience magnificent panoramic views of the surrounding mountains, streams, and wildlife. At the top of the tram ride is an observation deck that allows people to see for miles in any direction, absorbing the beauty that is all around.
Conclusion
Anchorage, Alaska is a beautiful and vibrant city, with lots to do for everyone. Whether you are interested in Indigenous cultures, want to spend the day eating seafood, or desire to be exploring outdoors, you can find an enjoyable way to spend your day. From polar bears to glaciers, halibut to bald eagle. Anchorage is a gorgeous city that will leave you captivated and hoping to return soon.
Thank you Mike Jones for this wonderful article.