The air has become cooler, signalling that summer is coming to an end. It is that time of year again when you need to pack away your floral prints, bright colors and lightweight items. We saw some beautiful Islamic dresses this Eid-ul-Adha and could not help dolling ourselves for the festivities. The change in seasonal and festive trends are great and exciting but your bank account is not ready for another wardrobe overhaul. It is not necessary to put away your entire wardrobe if you know the ways you can bring your summer hijab fashion pieces into coming season. Here are some great tips on how you can style your summer hijab outfits for autumn!
Summer Hijab Outfits For Autumn
Toughen up sweet florals
In summer, you would naturally gravitate towards pairing your summer jackets, dresses, skirts or pants with the lightest color on the item. Do the opposite during autumn—pair summer print with the darkest shade of color on it. Add leather items like a biker jacket or a pair of boots to make your floral outfit more appropriate for autumn. Pairing florals with darker hues and putting it against leather will instantly toughen an otherwise sweet and summery outfit.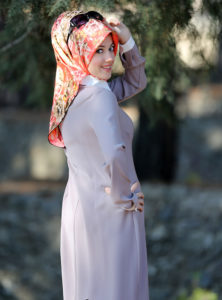 Warm up summer maxi dresses
Were you as obsessed with Banana Republic's summer dresses as we were? Since you have invested a lot in them, it is a shame to put them away. Pair your midi dresses in knee-high leather boots, a must-have for an autumn wardrobe. Just remember, you will be able to visually elongate your body by wearing boots that are of the same color as your dress.
Swap your lightweight summer kimono cardigans with over-sized knitted cardigans that will protect you from wind chills. When wearing thicker and chunkier materials, you will tend to lose your waistline. To avoid drowning in heavy materials, emphasize your shape by wearing a chunky waist belt over the knitted cardigan. Avoid delicate, thin belts because it will not cinch your waist adequately. These simple tricks can make use of all of your summer hijab outfits for autumn.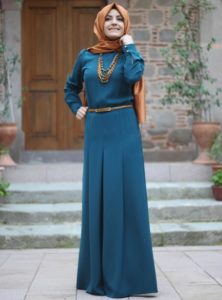 Dress brightly to stand out in autumn foliage
The great thing about summer is that you are able to wear bright colors without people questioning your fluorescent choice. Can you make bright colors work in autumn? Sure you can! They will not only light up your natural skin tone, but also improve your mood. Wear beautiful summer colors, like yellow, with a black top to tone down the brightness. Add a neutral colored blazer to further tone down the hue.
You can also make your bright Muslim outfits more autumn-appropriate by wearing them with the right accessories. Again, a leather jacket will give your traditional outfits an edgy vibe. An earthy circle scarf worn in addition to your hijab will provide you more warmth and ground a bright outfit. This is the best way to use your summer hijab outfits for autumn.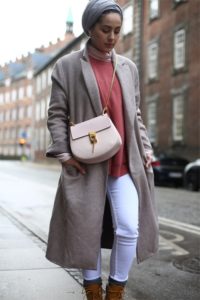 Max out your maxi
Every Muslim girl loves maxi skirts in summer because they are cooling and comfortable. Bring them into autumn by pairing them with a knitted jumper instead of a lightweight top. Layer a utility jacket over the jumper and roll up the hem of your sleeves a little bit to give your outfit a more polished look. Instead of finishing your maxi skirt look with gorgeous boho-chic sandals and accessories, you can finish your look with a pair of leather ankle boots and earth-tone accessories.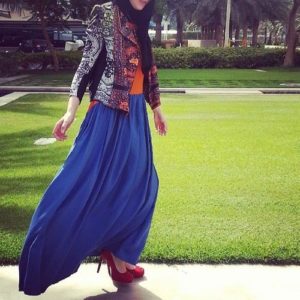 Colored jeans and pants? For autumn? Groundbreaking
Colored jeans and pants are great summer staples. If you are not ready to bid them farewell, wear them with dark-colored tops. Wear a hijab in a darker shade of the color of your jeans or pants to tone down the color. A leather jacket and a pair of leather knee-high boots will give what would a cheery outfit a rough tough cool look.
Before you go shopping for autumn Muslim clothes for women and put your summer clothes in storage, think of pieces that you can use during autumn and even in winter. Experiment with the items in your closet and find ways to pull together cool outfits with items that you can use throughout the year. With the right foundation, you can definitely bring some of your summer wardrobes into autumn and get more wear out of them.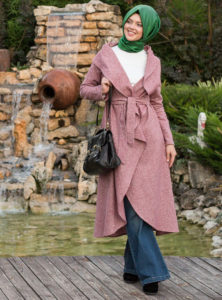 About the author:
Sarah is a hijabista and fashion consultant at Modanisa. She is really keen on styling up hijabs and outfits to look beautiful, yet modest. She's always trying out new Muslim fashion trends and styles.